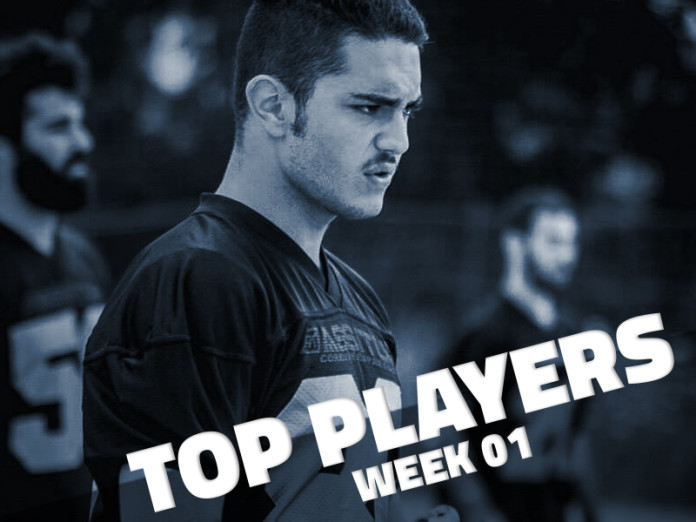 Agili e scaltri come giaguari, rapidi come saette o pesanti e rocciosi come tori inferociti..Non contano la vostra età, il vostro peso, la vostra altezza. Se il Martedì mattina siete in questa lista, quella dei MIGLIORI, è perché avete dato il 100% in campo, trascinando il vostro Team, mettendoci il cuore, guadagnando il rispetto dei vostri coach, dei compagni di squadra ed anche degli avversari. Per questo meritate di stare qui, per QUESTO la rubrica si intitola "Leave it on the field". A voi il meglio della WEEK 01:
DEFENSE
Defensive line
Giorgio Pipas De GORILLAS Varese
Pietro Baiocco De STEELERS Terni
Glauco Fantoni Dl PREDATORI GdT
Ruben Melis Dl MAD BULLS Barletta
Moussa Faye De TRAPPERS Cecina
Carlo Ricci De BUCCANEERS Comacchio
Linebacker
Emilio Biello Lb MINATORI Cave
Vincenzo Leone Lb EAGLES Salerno
Matteo Rossi Lb PIRATES Savona
Alessandro Bauduin Lb BRIGANTI Napoli
Andrea Galluzzo Lb BUCKS Brindisi
Francesco Perri Lb ACHEI Crotone
Davide Tamellini Lb WOLVERINES Piacenza
Leonardo Galbignani Lb e Dl TIGERS Cremona
Matteo Rossi Lb e Dl TIGERS Cremona
Marco Turrini Lb BERSERK Riolo Terme
Defensive back
Francesco Piovesan Ss ISLANDERS Venezia
Axel Ortolan Fs 29ERS Alto Livenza
Mirko Procopio Cb HIGHLANDERS Catanzaro
Marco Rugani Fs WHITE TIGERS Massa
Enrico Castiglione Cb G-TEAM Gallarate
Manuel Masi Fs RAVENS Imola
Andrea Raccuglia Fs KNIGHTS Persiceto
OFFENSE
Backs and receivers
Quarterback
Luigi Sanguinetti Qb PREDATORI GdT
Nicolò Arnaldi Qb PIRATES Savona
Matteo Petrucci Qb WHITE TIGERS Massa
Running back
Leandro Marasco Rb EAGLES Salerno
Gianluca Longo Rb ISLANDERS Venezia
Davide Bianco Momesso Rb 29ERS Alto Livenza
Tommaso De Angelis Fb BRIGANTI Napoli
Federico Eramo Fb BUCKS Brindisi
Desiderio Lemma Rb MAD BULLS Barletta
Gianpietro Ruffato Rb G-TEAM Gallarate
Luca Giovannini Rb TRAPPERS Cecina
Alan Giagni Rb BERSERK Riolo Terme
Antonino Volpe Rb KNIGHTS Persiceto
Wide receiver
Alessio Duca Wr MINATORI Cave
Samuele Perucconi Wr E K GORILLAS Varese
Samuel Maria Crocelli Wr STEELERS Terni
Pasquale Milano Wr ACHEI Crotone
Alfredo Carnevale Wr e K HIGHLANDERS Catanzaro
Roberto Raffini Wr RAVENS Imola
Fausto Chiatante Wr WOLVERINES Piacenza
Matteo Bellotti Wr BUCCANEERS Comacchio
Appuntamento alla prossima settimana!